yankees win game one 10-7
Well so much for
Schilling
shutting up the crowd at Yankee Stadium because the Bronx was ROCKING tonight!
"I'm not sure I can think of any scenario more enjoyable than making 55,000 people from New York shut up," the Boston Red Sox ace [Schilling] said Monday, a day before starting the opener of the AL championship series against Mike Mussina.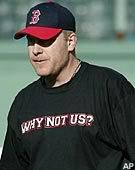 Matsui was
on fire
tonight and the Yankees proved once again why they should not be counted out yet!