Well its about time this happened! WAY TO GO DJ!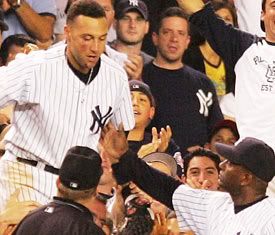 Jeter hauls in Gold Glove Award
Derek Jeter added another line to his already impressive resume on Tuesday, winning his first Gold Glove Award.
Jeter becomes the first Yankees shortstop to win the award, giving New York a Gold Glover at every position in its history.
"It's a great honor. I take pride in my defense and I work hard each year to improve in the field," Jeter said in a statement released by the club. "There are a number of fantastic defensive shortstops in the American League -- too many to count -- and to be recognized with the Gold Glove makes it that much more of a special accomplishment.
"I also want to thank our pitching staff for having so many of our opponents hit balls in my direction."
The Yankees have now had 20 players win a total of 55 Gold Glove awards, led by Don Mattingly's 10 at first base.
"Derek Jeter is a great, inspired leader and captain," said George Steinbrenner through his publicist, Howard Rubenstein. "He certainly deserves this honor."