A bunch of us watched the Steelers win over the Patriots yesterday and let me tell you that we had a GREAT time doing it! I am LOVING BIG BEN!!!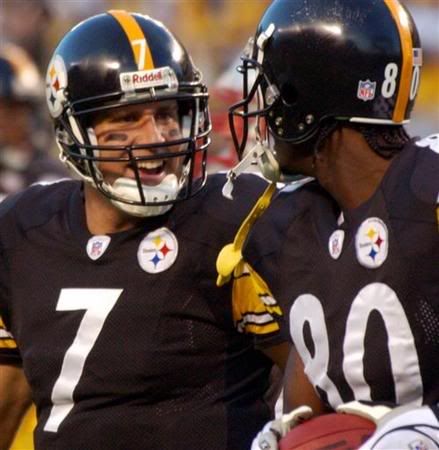 My Way - Sports News - Steelers 34, Patriots 20
PITTSBURGH (AP) - The New England Patriots are no longer perfect, all because of a rookie quarterback who still is.
Ben Roethlisberger, who doesn't know what it's like to lose an NFL game, drove the Steelers to four scores following uncharacteristic New England turnovers and Pittsburgh ended the Patriots' two long winning streaks with a remarkably easy 34-20 victory Sunday.
The Patriots (6-1) had won 21 straight counting the playoffs and a league-record 18 in a row in the regular season, but were all but out of this one after Roethlisberger threw two touchdown passes to Plaxico Burress during a 21-point Steelers first quarter.